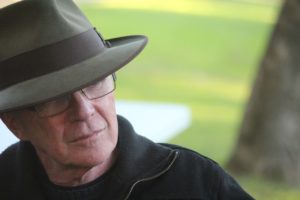 Robert Hood (called 'Rob' by friends – and Wikipedia) is an Australian-born writer with a British ancestry, who grew up on a literary diet of UK and US culture. Only later did multi-culturalism and the imaginative life of countries such as Russia, France, Japan and China make any headway into his literary worldview. Though he read the occasional juvenile SF book in primary school, it wasn't until he reached high school that a reading of H.G. Wells' classic novel War of the Worlds kickstarted what would become an obsession. He read voraciously from then on: science fiction, fantasy, horror, crime and humorous books (such as the works of P.G. Wodehouse), but also veered on to classics and mainstream literary works. And these days, graphic novels… as well as the odd non-fiction, usually for research purposes. He also loves cinema, but that's another story.
Though wanting to be a writer right from the beginning, and in high school English classes tended to write full-length stories (mostly fantastical) when one- or two-page "compositions" on any mundane topic were assigned as homework, he subsequently went to Macquarie University on a teaching scholarship, gaining a BA Hons. (Distinction) and then an MA Hons. (Distinction) in Literature, as well as a Dip. Ed. His undergraduate honours thesis was on "Ultimate Pattern: A Study of Order and Destiny in Wonderland and Other Fantasy Worlds (namely Middle-earth and Arrakis)", and his major postgraduate thesis examined the topic: "The Terrible Ones: [William] Blake's Monsters and the Imagery of Objective Form". He subsequently taught English and History at Elderslie High School.
Some years later, frustrated that his ambition to write was suffering from the all-encompassing mental requirements needed to teach, especially at a senior level, he resigned and spent time doing a variety of arts-related jobs, including writer (and sometimes performer) of comedy sketches for radio, journalist at a suburban newspaper, research assistant to Professor Jim Hagan at the University of Wollongong, and finally as an editor and graphic designer in the same university's Faculty of Commerce/Business. All the time, he was writing and selling his own fiction. He has now retired from salaried work and is writing full-time.