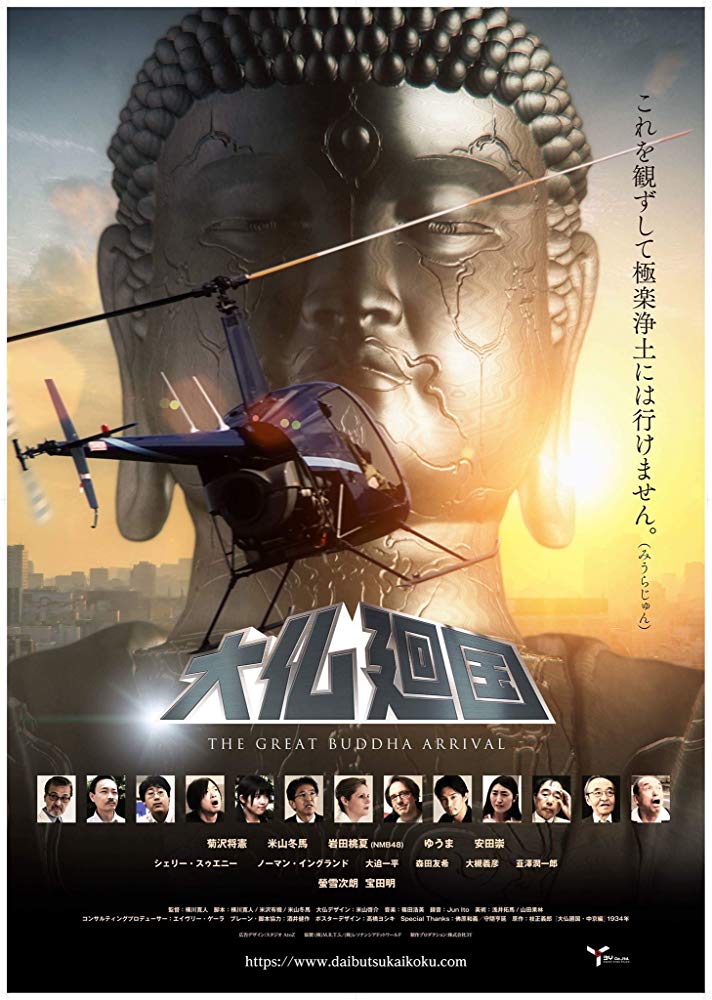 At the beginning of October 2018, I was approached by Avery Guerra to write a scene for a new, in-production movie for which he is acting as Consulting Producer. The film was to be titled The Great Buddha Arrival, and is based on a long-lost Japanese film, Daibutsu kaikoku (1934).
Directed by Hiroto Yokokawa, the new film features a large cast of Japanese and US actors who have starred in a plethora of daikaiju eiga (giant monster films) over the years. One of these actors is Peggy Neal, best-known among fans for her role in Uchû daikaijû Girara (1967; otherwise known in English-dubbed countries under the notoriously silly title The X from Outer Space).
Anyway, I readily agreed to write the five-minute English segment required for Peggy's role and handed the script over to Avery on the same day, after a tweak or two. It was greeted very positively, especially by Peggy, who got in touch and enthusiastically thanked me for my sensitivity toward the spiritual themes. 
Since then The Great Buddha Arrival has been made, and is currently running the independent-film festival circuit. By all reports, it has so far been well-received and has many times been assigned the role of "Official Selection", has been variously short-listed in a number of categories, and has at least once received 2nd place as Best Fantasy Film. I have seen a version of the film and hope that it will be released in DVD/Blu-ray form when the film circuit is completed, if not to screenings in local theatres.
Note 1: as of 2022, the film is available on Blu-ray, from srscinemastore.com
Note 2: Awards for The Great Buddha Arrival:
Best Film Of The Year – Picasso/Einstein/Buddha International Film Festival of India
Best Feature Film – Cinematic Panic of Tennessee
Best Director : Feature Film – Buzz Vicious Film Festival of Brazil
Best Original Idea – Top Indie Film Awards of Tokyo Japan
Best Editing – The Indie Gathering International Film Festival of Ohio